Bunnraku puppet theater 2015/9/9
Last evening, I went to National Theater to watch Bunnraku which is one of Japanese traditional theater arts and is composed of three parts, namely puppet play, musical narration and shamisen( three stringed Japanese style banjo).
Last evening's program was "IMOSEYAMA ONNA TEIKIN" which was first presented in 1771 at Edo period.
The play was opened with the simple introduction by the stagehand dressed in black from top to bottom of a musical narrator and a shamisen player. Just after the introduction, player and narrator started music immediately and puppets appeared on the stage.
The story is the mixture of history, legend and myth. The outline is political plot to relieve a country from the domination of a dictator who can be killed only by a special weapon. But moreover this is a play of love, sacrifice and human tragedy.
A daughter of merchant is in love with a young noble who is in town in disguise. The daughter helps the noble to get rid of the dictator and save a country by sacrificing her life.
Important puppets are manipulated by a main manipulator and two assistant manipulators dressed in black. We can see those manipulators clearly but strangely we do not mind their existence at all. It is obviously by the professional arts by those people.
Last evening the daughter, the heroine of the play was manipulated by Kiritake Kanjuro who is one of the best manipulators. Usually manipulators try to keep them low in the back of puppet, however Kiritake Kanjuro acts and dances together with a puppet.
It is strange that he and puppet looked as if they were unified. All of audiences were fully satisfied with superb performance of Kanjuro.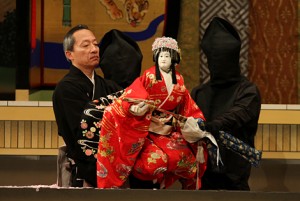 Kanjuro