Early May holiday season 2015/04/29
A long spell of holiday season has just started from this day, Apr.29th which is a national holiday to memorize Showa Emperor. This long spell last for 8 days if you take two days leaves on Apr 30th and May 1st. This spell is commonly called as a golden week which indicates how enthusiastic people wait for this season.
Early May is the most comfortable season of the year and many people enjoy travelling during this holiday.
Hawaii and Guam are most popular as overseas destination and other Asian countries like Taiwan, Thailand, Singapore follow.
As domestic destination, Hokkaido comes first and Okinawa comes next and Chiba, Tokyo, Kyoto follow.
In Hokkaido, it is still in late winter or early spring. We can enjoy spring ski or snow trecking and or cherry blossoms.
In Okinawa, we can enjoy summer marine sports. The Japanese Archipelago is 4000 km length from north to south and we can enjoy winter and summer at the same time.
Chiba has the popular spot, Disney Land. Tokyo is attractive for shopping and Kyoto with tremendous group of traditional temples and shrines is popular all round the year.
Expected Number of travelers for overseas tour is around 500 thousands while for domestic tours is around 22,000 thousands which is almost 20% of total population of Japan.
Weather forecast tells fine good days during the week. We will fully enjoy young green scenery with fresh breeze.

 sprig ski in Hokkaido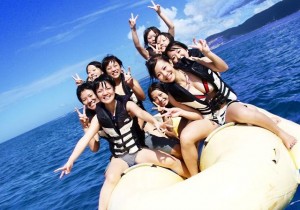 Okinawa