Midsummer 2015/08/03
There is a traditional calendar called 24sekki (24 divisions of the solar year)  which was born in ancient China and modified in Japan according to Japanese climate. It was meant to adjust a seasonal gap caused by a lunar calendar.
Since we use solar calendar in Japan nowadays, 24sekki has lost it's original role. However we still use 24sekki to express seasonal feeling adequately.
Mid July is called "small heat" in 24sekki while a period from end July till early August is called" big heat". Two seasons are collectively called as "a season in the heat" which is the hottest season throughout a year. In Tokyo, we are now having 4 consecutive extremely hot days which has higher than 35degrees of highest temperature of the day with around 70% humidity. People are worrying how long this blistering hot weather will continue.
It is not healthy to sit in an air conditioned room for all the day. Therefore people tend to use old technique to calm a heat such as watering  gardens and roads, enjoying a breeze in open summer room wearing cotton summer simple dress, listening to a wind chime, enjoying cool dinner at a specially arranged riverside table, seeing fireworks in a midsummer sky and so on・・・.
It is extremely hot and sticky, however we have tremendous traditional wisdoms and ideas to enjoy the season.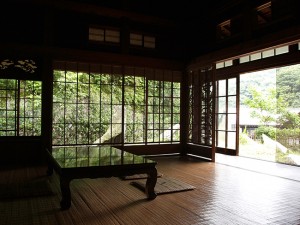 open summer room