Onomatopoeic from Jomon era 2014/11/02
Total number of Japanese vocabulary is around 500,000. Among them, around 1% is onomatopoeic. This ratio is exceptionally high in comparison with other languages. It is one of the features of Japanese to have high ratio of onomatopoeic.
Japanese has another feature to be especially rich in vocabulary related with nature, natural surroundings, all living things and lives.
Recent study revealed people in Jomon era which lasted from 13,000 years ago to 3000years ago, developed villages with buffer zones between nature and human settlements.
Japanese have been afraid of something great in nature, worshipping nature and receiving cleverly affluent blessings from nature. In return, Japanese have been carefully taking care of nature. The ratio of wood against total landscape is 66% which is the second highest after Finland among all developed nations.  Japanese have never devastated nature but kept it healthy throughout the whole history.
Many of Japanese onomatopoeic are related with natural phenomenon, namely movements of river, sea, wind, songs of birds, cries of animals and so on. It is projected Japanese onomatopoeic which might be originated from Jomon era, is handing down the tradition of Japanese mentality to live together with awful and precious nature.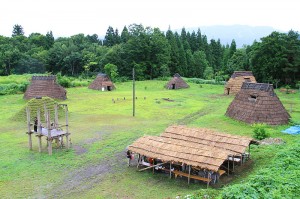 najomon.com