Trump new policy and weakening Japanese yen 2016/11/23
There is increasing expectation on Trumps' economic policy. We can see the clear effects in stronger US Dollar and weakening Yen. And also we find the same effects in rising stock market both in US and Japan.
He promises to increase public investments and secure jobs for middle and lower class labors. He may impose heavy duty on cheap imported products to protect domestic market and small industries. He mentions to withdraw from TPP agreements and renegotiate trade conditions through bilateral talks.
These are definitely good policies both for USA and total world. These give us time to reconsider what is globalism or what is free trade.
For example, TPP is composed of 12 Asian and Pacific rim nations including USA and Japan. They agreed to lower import duties and encourage trade inside TPP nations. It may increase trade inside the circle but obviously exclude other nations outside TPP nations. There is high possibility that TPP will promote block economy. TPP could promote entirely contrary effects on free trade.
As far as the trade between Japan and USA , TPP will be almost meaningless in view of economics because import duties on main items have been already reduced and there are not many rooms left for further reduction. However breakdown of TPP could be significant in view of diplomatic aspects.  In case USA withdrew from TPP, both Japan and USA have to endeavour in keeping and strengthening political and military ties.
Most scholars and media are upset by Mr. Trumps' victory in Japan. It is completely against their projection that Trumps' victory brings weakening Japanese yen and stock market hike.
However there are not few Japanese with good sense who supported Trumps' campaign and are welcoming Mr. Donald Trumps' Presidency.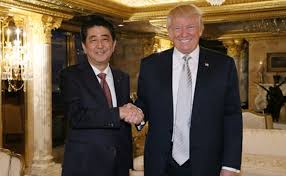 Prime Minister Mr. Abe and President-elect