Boston winter storm Thor 2015/03/12
Last week, I visited Boston together with my wife. It was our first visit to Boston and we enjoyed calm and sophisticated atmosphere of the town. Needless to say, we did not miss famous winter sea foods such as Boston clam chowder, crab cake and steamed lobster together with Napa Valley white wine.
Luckily we did not have serious problem there, but they have had big snowfall this winter. The  snowfall in February was record high and weather forecast warned everyday that total snowfall of this winter might break the past record of 273cm.
We stayed at the hotel in downtown where most tall modern buildings are connected with arcades and we could walk from one shopping mall to the other mall or a restaurant even under heavy snowfall without any problem.
Boston, as one of the oldest towns in U.S.A, tried hard to maintain old buildings and districts,  however  they do not have enough car park space.  People have to park cars on the streets and those cars were left unmoved under full cover of thick snow which caused severe traffic jam. It seems they have to wait until warm spring comes since they used much of snow melting agents and could not throw away obstructive snow containing agents to the sea because of environmental issues.
For visitors old districts seem more attractive and comfortable than modern districts but people there have to be patient to some extent to maintain the districts.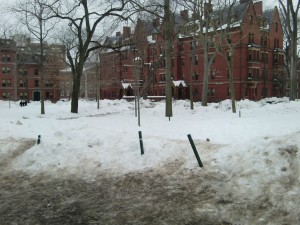 Harvard Uniersity under snow